Today it struck me how close winter is. For the past few years the first snow fell around the 20th of November, and yes, I actually write these things down. :)
But, while it's still fall, I picked up a branch with small yellow leaves outside.
I'm wearing Deborah's Sense TECH 100% MATT nail polish in the color 04.
I wouldn't say this nail polish is 100% matt - rather satin, because it's not entirely matte, there is still a slight shine but nothing strong enough to classify is as glossy.
On the back of the bottle it says to
"apply on bare nails to make your fashion statement. Do not use base coat, top coat, drying drops or hand lotion"
, so that's what I did, two coats and now I'm enjoying my minty nails, especially the satin finish. I have never previously applied anything other than creme nail polishes. I am not a huge fan of glitter, shimmer, pearl, frost finishes on
my
nails, I definitely don't find them ugly but I feel like they don't coincide with my minimalist nature.
One more announcement
: I will be doing a giveaway in a few days to honor my loyal followers. I first have to go out and buy the products I'm going to be giving away so watch out for that post! :)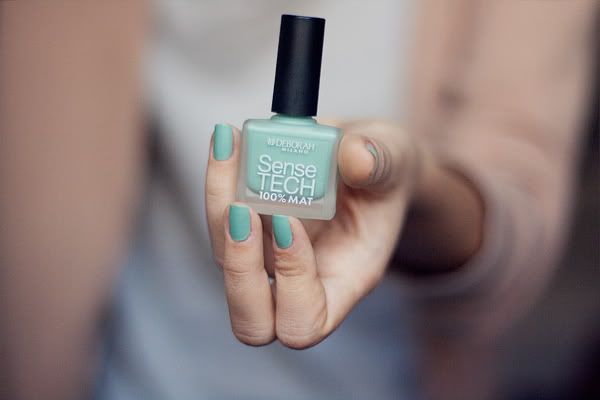 I cannot find anything about Deborah Milano testing on animals so I cannot give it a cruelty free stamp.